Public

Relations Services
Strategic public relations and communication services
Powerful PR is about your relationships. We provide insight and experience with strategic communications planning products, including strategic planning sessions, communications plan development, and measurement tools that focus on powering your organization's best performance. Whether it's stand-alone PR or integrated public relations programming, our APR-certified team provides a variety of solutions dedicated to your business PR success!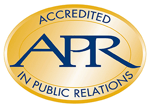 Organic

Social Media

Strategy
Organic social media strategy takes advantage of free social tools to build an online following. Deciding which social channels to be active on is a crucial part of this strategy as it will determine the actions you take. We'll help you devise a custom organic social media strategy to engage with followers while spreading your message.
Research is the first and arguably the most critical step in developing an effective public relations plan. A PR Audit provides a benchmark for existing PR efforts.
Powerful messages require insight into the message development process. We offer MessageMAPPING™, neuro-messaging, message testing, brand messaging, product messaging, long-term message strategy, measurement and insights that tell your story so your audience keeps listening.
Additional

Public Relations

Services
Public Relations Audit
Evaluate past PR efforts to prepare for future campaigns
How Our

Public Relations

Services Work
Our customers always come first. Our work is proven to be efficient, effective and a reflection of our customers' core values.
Let's discuss your needs and business goals.
Our team will do extensive research for the project.
We'll begin planning out next steps and strategy.
The approved plan will take effect.
We'll debrief to see what went well, wrong, and what we can keep in mind for next time.
Our Public Relations

Experts
Each person on the team is an active member of the state and national Public Relations Society of America (PRSA).
Find out where you company was mentioned
What They've Said

About Us
The challenge was met. Don't take our word for it, take theirs.
"ComGroup confirms their extensive knowledge of public and government contracts. Our organization has benefited from their attention to detail, including extensive reporting and measurement of results, which is often required in state government contracts as well as federal guidelines."
"The Communications Group has a long history of successfully identifying their target audience and developing key messages tailored specifically to those audiences."
"They truly understand industrial marketing, how to connect with their customer's buyers and are constantly working to bring more value to their customer's table."
"They have the deepest knowledge of their customer's products and culture. Their work consistently scores very highly in independent readership studies we conduct."
Frequently Asked

Questions
What is Public Relations?
Public Relations is the practice of maintaining and strengthening a brand's reputation by establishing meaningful relationships built on trust and respect. An essential function of Public Relations is helping develop clear messages for a defined audience, and determining the best way in which to communicate that message.
Do I need Public Relations?
Yes! Public Relations is essential to the modern business. It may be difficult to understand if you've never engaged the help of a PR practitioner before. Once you have though, you'll quickly learn to appreciate the objectivity and insight PR brings to the table.
What is the benefit of Public Relations?
The fact is, managers inherently have a planar view their business or organization. Public Relations helps managers view their organization three-dimensionally, bringing into account the external forces that impact us whether we are aware of it or not. With this insight, managers are empowered with the perspective they need to make well-rounded, informed decisions that result in more positive outcomes.
Are marketing and PR the same thing?
Not exactly. Together, marketing and PR make up a well-balanced holistic communications strategy. The difference is, where marketing encompassed the paid side of communications (i.e. advertising) and is more product and sales focused, PR emphasizes the "earned" side of communications with a primary function of supporting a positive brand reputation by leveraging traditional and non-traditional media.
How do I know if my Public Relations is working?
A good PR plan is a measurable one. When we work with a client, our first step is to identify what success looks like to them. Next, we define 'SMART objectives' that serve as indicators of success. A SMART objective is Specific, Measurable, Achievable, Realistic, and Timebound. Applying these parameters to our objectives helps us to evaluate the level at which our efforts are successful and creating value for the client.
What are some of the most common tactics you use for PR?
Communication Strategy and Development
Content Development and Distribution
Crisis Communications
Event Planning and Management
Executive Counsel
Media Monitoring and Tracking
Media Pitching
Media Relations
Media Training and Coaching
News Releases
Organic Social Media Strategy
Reputation & Brand Management
Research
Thought Leadership